Looking for a relaxed, welcoming, oceanfront, family friendly town? – then Bargara fits the bill – think Noosa 20 years ago.
Bargara is approximately four and a half hours drive north of Brisbane, in Queensland, along the east coast of Australia. It's a very pretty location, with plenty to see and do. Here are five FREE things to do whilst visiting.
1. Coral Coast Pathway
Enjoy a scenic stroll checking out the regions diverse beaches. From Bargara you can walk along the coast via Nielson Park, up to Mon Repos (possibly looking in on the turtles), then continue onto Oaks Beach and finishing at the historic Burnett Heads Lighthouse. You are looking at around two hours walking and remember you must get home again, so be prepared. I recall visiting the Lighthouse and Pilot Station at Burnett Heads as a small girl, as my Mum's Uncle Jim manned the lighthouse for about 20 years between 1953 and 1975. There are also walkways heading south from Bargara taking you around through Innes Park and Coral Cove, into Elliott Heads.
2. Fishing in Money's Creek Causeway
The causeway used to be a favourite family swimming spot however now appears to be popular for fishing. The causeway is open to the sea, so flushes out with the tide. Plenty of spots along the edges, shaded areas and across the inlet is food and conveniences. Parking under the trees and just around from the Patrolled Beach.
3. Walk along several beach areas
Depending on what you are keen on doing, Bargara has a beach for you. From Nielson Park, which is the main 'surfer' style beach due to the rocks forming the waves better, around to The Basin, walking along the foreshore to Kelly's Beach, and then continuing along towards Innes Park, you can find a blend of open sandy beaches, sheltered swimming areas, patrolled beaches and volcanic rocks to climb over.
4. Check out the wild life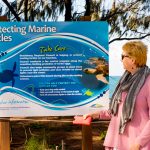 Depending on the time of year you visit Bargara you could possibly witness turtle nesting, or even whale watching.
Turtles – November to January – mother turtles come ashore to nest, primarily at Mon Repos but Bargara can have turtles nesting there too. Volunteers patrol along the foreshore during nesting season to then arrange protection for the mothers from dogs and humans. Then January to late March the tiny hatchlings head towards the shoreline.
Whales – June to October each year sees the humpback whales heading to and from Antarctica to give birth, feed, mate and play in the warmer waters. Bargara coastline is a perfect viewing opportunity.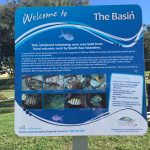 Year round you can check out the various marine wildlife. Within the Basin area there are corals, sponges and algae, various colourful fish, starfish, sea urchins, however there are also signs up saying harmful species like stonefish are around. However, in many years of living in Bundaberg and swimming at the Basin, we never knew of these harmful species.
5. Exercise / Boot camp style training at Nielson Park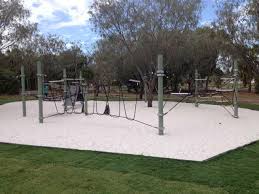 There is a fabulous fitness area called Schuhkraft Park which has been open for several years now. There is static fitness equipment, with instructions on how to use safely and effectively. There are also climbing frames made from rope, rock and wood, which blends in well with the environment. This would be perfect for those 'exercise' conscious travellers. This park was named after John 'Jack' Schuhkraft who was one of the first residents at Bargara.