The foods of North America – I do love my food……Anthony always knows when I'm hungry, as I get 'hangry'. However, we didn't eat as regularly on the recent travels, as normal……and here's why.
Each town brings back fond memories of different venues or meals, however the consistency across all meals was 'huge'!!
First couple of days we soon realised that we couldn't keep eating the why we were……..it was just too much food, and we were feeling uncomfortable, so sharing soon became the norm…..even though we did 'slip up' occasionally and kicked ourselves. We also found that with the late sunrise, we didn't venture out until later in the morning, so it was often closer to lunchtime anyway……..so two meals a day sufficed.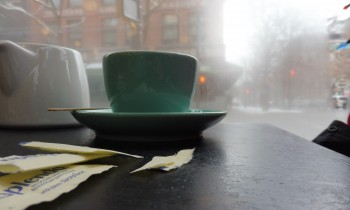 On our very first walk in the snow in Vancouver, we had to stop to warm up. First lesson, if you want white tea, then order milk…….it's not the norm over there. Plus, Anthony had no luck during the whole trip with a 'flat white'. The latte became the norm for him.
Interestingly menus show 'Entrée' and then 'Starter – no 'main' – but trust me the starter is more than a main in size.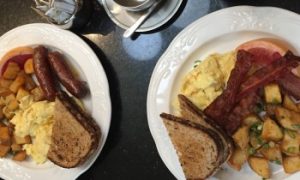 Vancouver – we soon discovered the huge servings, especially at breakfast. Potatoes come with most breakfasts, as does sausage and bacon – not one or the other. But the bacon…….drooling thinking about it……was so tasty. It was slightly sweet, so assume it had maple syrup on it, and crispy – perfect combo. The potatoes are often listed as 'hash browns' but not really……..either fried potato cubes or smashed potatoes.
Poutine – this is the national dish of Canada – French fries generously slathered in gravy and cheese – felt the calories piling on just looking at this dish. We also tried buffalo wings, which were quite tasty.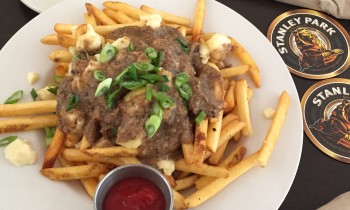 Salads – the most common on menus is the Caesar salad, however don't expect bacon bits or egg – pretty much just lettuce, croutons and dressing – then you can add the chicken. Some coleslaw or garden salads showed up occasionally, but no 'Thai beef salad', or 'cous cous' to be seen.
We also soon discovered that cafes and restaurants very rarely have bottled soft drinks, and their 'postmix' is not pleasant – tasted quite flat and watered down compared to here. Beer or water in bottles is the norm.
We ventured to an Ice Hockey Game in Vancouver and had 'in-seat' dining options – great idea to keep the flow of the gaming going plus a nice menu variety.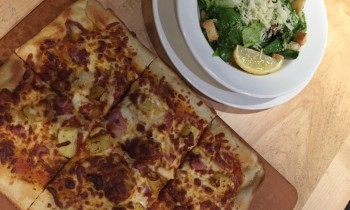 Victoria – by the time we arrived here we were clued into the 'sharing' option and asking to mix up menu items.
Sharing a salad and pizza was so much better for the tummy. At breakfast in our hotel we could also swap out toast for what they called a 'fruit cup' – just a bowl of fruit, which was perfect – don't be afraid to ask for changes over there.
Banff – we spent the longest time here, including Christmas Day and had a variety of meals, ranging from sushi on the first night (at least it was light), cooking our own at the Grizzly House, ribs at Tony Ramanos, Christmas at Fairmont Banff Springs, to just quiche and salad from the local IGA.
The IGA, one street back from Banff Avenue and one block from our accommodation stocked everything we could need, from Pepsi Max, chips, sushi and other quick dinners, through to Anthony's new favourite snack, 'Rolled Gold Chocolate Coated Pretzels' – he could polish a bag off very quickly.
A favourite venue was the Grizzly House – we had been walking past it for days – then finally ventured in. Place was a lot larger than expected, very rustic and an eclectic range of meats on the menu, from Rattlesnake to Alligator……but we were very adventurous with our beef and chicken lol. They bring out a sizzling square 'hot rock', with creamy butter and your raw meat, so you cook your own, to go with salads on your plate.
Christmas Day lunch was at the Fairmont Banff Springs Hotel. Pre-booking was a must and there were different sittings in two huge ballrooms. Staff were attentive and food choices were broad. A much larger and classier 'Sizzler', with all of the normal Christmas fare of seafood, ham, turkey, roast vegies, salads, and loads of cute miniature desserts, but also 's'mores' area, omelettes and Asian stations….plus the view was pretty spectacular.
Another love in Banff was The Fudgery – in their window were these stunning nut popsicles which are a variety of nuts glued together with toffee and then chocolate dipped if you want. I had to venture into here….pecans for me and chocolate dipped cashews for Anthony.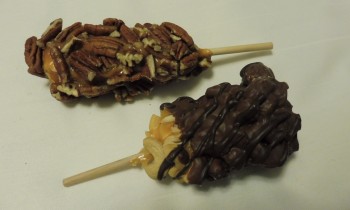 Montreal – my first attempt at some gluten free breads, and found that I could ask for this in our hotels, but not out in other cafes – I normally just opted for risottos or salads.
We had New Years Eve in Montreal and the dinner was okay. Pre-dinner nibbles and also the main meal both had foie gras in, and whilst tasted okay, not keen on how it is produced.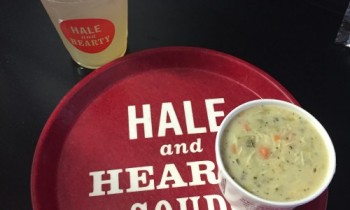 New York – we stayed on Times Square and everything is dearer around this area. Also by this part of the trip we were really conscience of what we were eating, so first day just wanted something plain – we headed into this 'hole in the wall' type café, Hale and Hearty. The 'chicken pot pie' sounded good on the menu, and even though it wasn't a pie, it was very tasty, just enough and a cheaper option.
The TV kept advertising 'Red Lobster' so we had to give it a try, plus it was nice and handy to our accommodation. We went early but still had a 5 minute wait……the upstairs eating area is huge, and it had very friendly staff. However, I thought we'd just have a 'starter' and salad……well never have we seen so much food. The salad came out first, with 'biscuits' – like a savoury scone, then the meals – OMG – they were so huge.
Madison Square Garden for the New York Knicks basketball game, saw my love of fairy floss fulfilled – guys walk up and down the aisles – winner!!
It is 20 years since our last trip to the States, and we had forgotten the proportions – so biggest tip is the sharing. It was lovely to get home and just have a toasted sandwich, or some crackers.
Some more photos can be found in our YouTube Video here.
What is your favourite place to eat in Canada or New York?