Beaded jewellery comes in a variety of styles, materials and quality and how you care for it can keep it looking fabulous for many years. It may be thought of just as 'costume jewellery' however depending on materials used it can also be a lifelong, heirloom type purchase.
As I have been making semi-precious gemstone jewellery for the last 14 years I want to share with you the best way to care for that style of jewellery, and particularly the beads and findings that I have used designing for Beauje.
Semi-precious gemstone beads cover all natural made/found beads that aren't 'precious', ranging from amethyst, onyx, lapis lazuli, tigers eye, turquoise from underground, through to coral, and freshwater pearls from the ocean. Throw in amber from trees and basalt from volcanos and as you can see the 'semi-precious gemstone' range is very broad.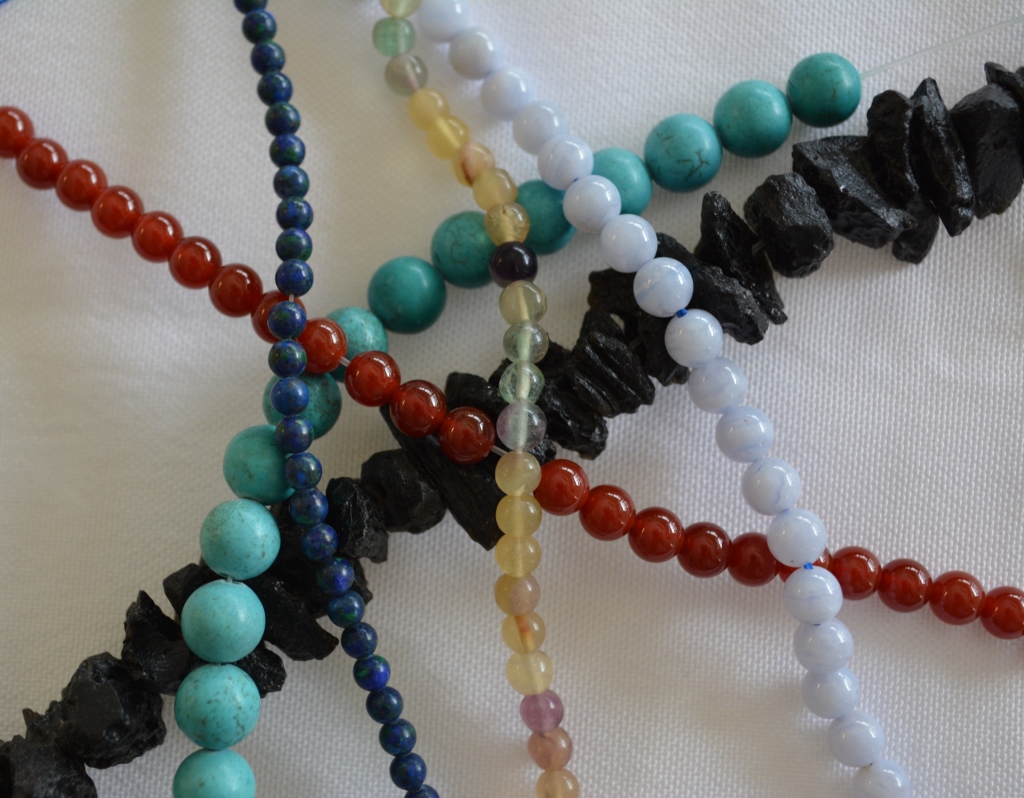 As these beads are all 'natural' they do require care to maintain their lustre and quality, some more than others. For example freshwater pearls require more care than say onyx, due to their porous nature.
How your jewellery is crafted should also be considered in your care. For example, if strung on tiger tail, which is plastic coated wire, then jewellery should not be hung up, nor bundled together, as the tiger tail could stretch, kink or even break. Your jewellery findings, such as clasps and earwires also need suitable care.
The top 11 tips to care for your semi-precious gemstone beaded jewellery are –
Retain the box or packaging that your jewellery came in and store in that. Alternatively store in a jewellery box or clean dry dark area, such as a drawer.
Store each set separately as some beads can scratch other beads, or damage other jewellery.
Do not leave your jewellery in the sun as most gemstones can fade in prolonged sun exposure.
Store your jewellery flat, so that stringing material does not stretch or break. Note that some beads, for example red coral or turquoise nuggets can be quite weighty.
Only place your jewellery on after getting fully dressed, so no snagging.
Finish applying your makeup and perfume plus doing your hair prior to putting on jewellery, as these chemicals can dull gemstones and also affect pearls, becoming discoloured, pitted and retain smells.
Do not wear your jewellery when swimming or showering. Harsh chemicals such as chlorine or detergents can affect the finish and polish of the beads.
Avoid wearing your jewellery when doing household chores, as you may knock them, which could either damage the actual gemstones or break the stringing materials
When removing your jewellery prior to storing, wipe over the beads and findings with a soft cloth, to remove your natural oils, any makeup etc, which will retain the lustre of the piece.
Quality beaded jewellery will often come with Sterling Silver 925 findings. All silver will naturally tarnish, so wiping the findings after wearing, and storing in a cool dry place will help prevent this.
Do not use jewellery cleaner on any of your gemstones, plus avoid polishing gemstones with anti-tarnish cloths if using on the silver findings.
I have Beauje necklaces that I made 10 years ago and still wear them often. So by simply caring for them, treating them like you would a 'precious' item, then they will love you back for many years.