International Business Class – my first experience – some hints and tips for other novices that I enjoyed and thought worth sharing
I am 50 this birthday and our recent 'White Christmas' holiday to Canada was my first ever Business Class experience and we did it on a long leg International flight, so even better.
Think prior to the trip I was excited about experiencing this 'treat' almost as much as seeing snow. So I was like a school kid when we first boarded – having to check everything out, take picies and now of course writing about it.
So I am writing this blog, not as a 'Business Class Review', very formal, but as an excited first timer……with some of my thoughts, what we did and things I found exciting and useful to share.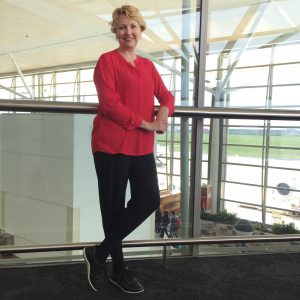 Our Air Canada flight was direct Brisbane to Vancouver, 13+ hours, departing at noon here in December, so HOT. Air Canada code shares with Air New Zealand, so we were able to swan into the Business Class lounge at the airport, and this was our first 'wow' moment. This lounge is newly renovated and I have been told that compared to Qantas, this is superb. Plenty of seating areas, charging stations, refreshments, showers plus there are announcements when your flight is boarding. This is a big difference to other lounges we experienced during the trip.
Obviously being able to board first is lovely, only experienced that once before when travelling with Joanne who was pregnant with the twins.
When first turning left into the aircraft – being a 787 Dreamliner – you get excited to see only 6 rows of 'pods', so 24 seats in Business Class. The design of the 'pods' allow you to stand in them, to take your time working out what you want kept with you, or what to put 'up top' – no being rushed by people wanting to get past you.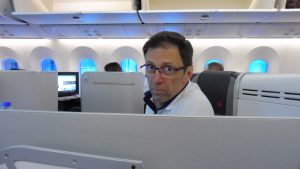 Anthony and I had row 3, two centre seats, being 3D and 3G. We were separated by a divider, but could still see each other over the divider. A down side of the Air Canada 787's is that the divider does not come down, as I believe they do on the British Airways aircraft.
Already in your pod are – noise cancelling headset, pillow, blanket, slippers, vanity pack, bottle of water. Menus are handed out soon after you board.
Tip – I would recommend placing your pillow and blanket 'up top' unless you are planning on sleeping right away, which I did on the midnight departure flight on the home leg.
I had to check out the 'pod' well – all self-contained with the arm rest up or down, compartment containing the handset for the entertainment system, USB and normal charger ports. The arm rest has an area under it which is perfect for your water bottle, or rubbish etc.
Tip – I loved being able to store my glasses, few toiletries, such as hand cream and lip balm, camera, phone, tissues, gum/mints etc in there – nice and tidy and you didn't lose items.
The seats in these pods had multiple settings, from reclining, massaging, to fully 'lay flat'. When laying flat your feet go into a smaller compartment up beside the pod in front. When upright that area is a shelf – so can use for shoes if you wish.
Tip – I however recommend removing your shoes as soon as you board, put them up top and slip on those slippers. You can still walk around and to the toilet etc in your slippers and don't need to worry about feet swelling, or losing your shoes forward or backwards, like in economy.
There are numerous flight attendants for the Business Class cabin, they know your name and before take-off you are served warm nuts and any drink. You are also asked for your choice of main meal – all before take-off.
Tip – I did have a caffeinated drink at start of trip, but then stuck with water, less trips to the toilet. Also, don't go back for seconds on the nuts, even though they are yummy, as your appetizer comes out fairly soon after take-off.
I loved that you have a linen tablecloth placed on your tray table, and then served each meal, appetizer and salad come together, then main course, then selection of cheese and dessert – all with drinks offered, plus 'real' cutlery and linen napkin.
Tip – even though the food does look and taste lovely don't be tempted to eat everything in front of you. Take the actual time into consideration. We departed at noon, so made sense to eat a full meal, however on flight home we were leaving at midnight, which was actually 4am in New York, where we had been that day, so I didn't eat anything on departure.
There are snacks available during the flight, such as fruit, chocolates, which sit just outside the galley area, however you can ask for anything during the flight.
Tip – as a snack about half way through flight home I had cheese, crackers and some fruit – which was just enough.
A strange part on the lay flat seats is a padded area on the seat belt against the internal section of the pod – this did make sleeping a little difficult.
A couple of other small down sides, is that you do have to walk through the galley to get to the toilet up near the cockpit, and when I requested a second pillow on home flight they didn't have any, so I was given an extra blanket.
Tip – I sleep with earplugs in, however believe that wearing the noise cancelling headsets while trying to sleep, works a treat.
So as a 'Business Class' novice, I have to admit I was pleased. For long haul flights, such as these being over 13 hours, to be able to lay flat, on a pillow and sleep is huge. I didn't have any issues with jet lag on this home flight, as I have on previous long haul flights home in economy, where I couldn't sleep. The personal and regular attention by the cabin crew was pleasing, as was the meal service. I am definitely a convert to Business Class flying.
Please share your experiences, would love to hear them – good or bad. Some more photos can be seen on my YouTube video