Want a relaxing and beautiful week-end away then O'Reilly's Rainforest Retreat is ideal. Nature, peace, birds, great food – O'Reilly's has it all.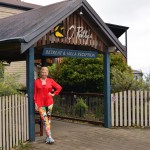 Recently Anthony and I headed there for a belated Wedding Anniversary – when you have been married 26 years, belated is fine…….you don't stress about always doing something on the exact day.
A couple of hours after leaving Brisbane we arrived into this tranquil environment with birds everywhere. We didn't have an exact address and the GPS could not find it, so we 'winged it' – which is sooooo not me, with the few sentences on the O'Reilly's website and amazingly we found it. Only slight misdirection was the turn off in Cunungra but worked it out. Then into the Lamington National Park and up, up and up again……such a winding road. There was a chill in the air…..so we may have been a little underprepared for that.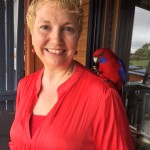 Pleasantly we had been upgraded to a canopy villa, which was at the end of a row, so looked out over treetops on the raised walkway and from our balconies – yes two – was a gorgeous vista over the valley. Our arrival time allowed only an hour or so of frantic photography; firstly the birds visiting our balcony – since learned they are King Parrots, then trying to video the room, then some time lapse during sunset. This is definitely a photographer's nirvana…….the camera lens' everywhere spoke volumes of the wildlife and nature to be found here.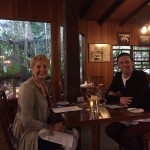 Dinner first night was early following a work half day. Lovely timber lined restaurant, and staff were very attentive. Lashed out on entrée and main, with scallops and a risotto. Our package included champagne and strawberries so we cracked that open post dinner and into a relaxing spa bath……..ah the tranquillity.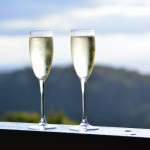 The gorgeous pot belly fireplace was also stoked and raging away. The peacefulness – no TVs or phones, dark skies and warm spa, oh plus the champagne lulled us into an early goodnight. Then awaking to chirping birds is a lovely way to start the day. Over dinner we pursued the day's available activities and booked in for the flying fox/zipline later.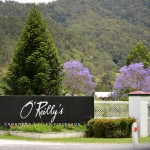 Morning we ventured out into the rainforest – when not surrounded by other guests the tranquillity and beauty of this area is awe inspiring. Then we were off to the flying fox/zipline…….that's another story. The next day we finished our weekend with a fabulous picnic down by the creek at the Cunungra Valley Vineyard – beautiful.
So if thinking of heading down to OReilly's, for a relaxing time, I believe the must do's/sees are –
Try for a Villa – view is spectacular
Enjoy the birds visiting you
Get that fire going
Have a bubble spa bath, overlooking the sunset
Take a leisurely walk through the rainforest
Do either the flying fox or maybe try the Segway tour
Visit the vineyard on way home
Eat as much as you can
Sleep early and well