A recent addition to my wardrobe are these stunning patterned pants from Style Me Luxe. They have a flat front, elasticised back waistline, pockets and 100% rayon.
The rayon feels soft and 'silk-like' and drapes beautifully. Being 5'10" I sometimes struggle with perfect pant length, but these are perfect. I am wearing a 'L', as I would rather have excess fabric than being too snug.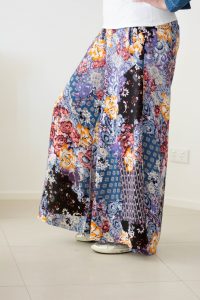 The wide leg style reminds me of some of the 70's style, but am not re-visiting this style, as I was only 13 when the 70's ended……so enjoying this style for the first time.
This brand is 'Jaase', which is an Australian owned brand started by a mother and daughter, who live on the Northern Beaches of Sydney. Their styles are created in unique prints, which are hand designed here in Australia.
Apart from the smooth silk-like feel and lovely 'swishiness', my favourite feature of these pants is the print versatility – I am going to be able to top with so many colours, from blues, pinks, through to classic black and white. The weight is also ideal for Queensland; wearing as styled below during our Winter, but will still work a treat with singlets in Summer.
My styling so far has been –
Casual – with Frankie 4 Footwear silver Ellies, Katies white tee and Style Me Luxe demin jacket
Dressier – neutral Nine West heels, David Lawrence woollen top and bomber style jacket from Katies.
These pants are current stock – need a pair?