I just love zoos, so on our latest trip to Melbourne, we headed to the Melbourne zoo, even though it was drizzling and chilly. Still plenty of families there, cute little kids with their galoshes and raincoats. Has been about 5 years since our last visit, so it was a must do for me.
Some of the animals were a little shy and trying to stay dry too, like the Sumatran tiger….only caught a glimpse of one, pacing along his fence line. I believe these guys are soon getting a new enclosure similar to the lions, which was fabulous.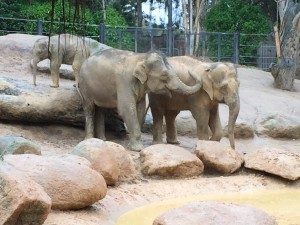 Next on the must see list was the elephants – they were out having a play in the mud; the little baby elephant is such a cutie.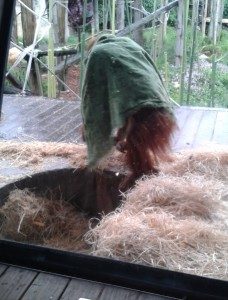 Then we headed into the Orang-utans area – they also have a great area – plenty of room for swinging and playing but they wanted to stay dry too. One guy was so clever – the handler used a laser pointer towards the scales and he just hoped on to be weighed – then he was given chalk and off he went to draw on some walls, then back to the handler – they are just so gorgeous and animated. Another cheeky one was throwing straw at a larger older guy who just wanted to sleep.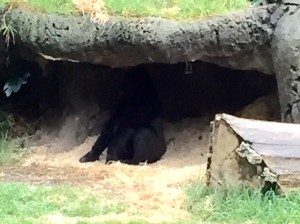 The gorillas weren't out and about much – just saw one who headed into this pictured overhanging area. I remember last visit they were very playful, so a shame this trip. Lastly on my must see were the lions – they have a terrific enclosure, been open about 12 months, where you are just behind glass – you are so close and they were beautiful.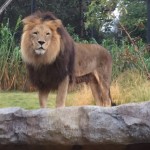 What is your must see in Melbourne? Susan