Sentimental jewellery
I have quite a few pieces of Mum's jewellery – some she gave me, some that Dad gave me at significant birthdays and the rest now both Mum and Dad are gone, but there are some pieces that are extra sentimental to me….and have a story attached, so wanting to share.
Mum's Jewellery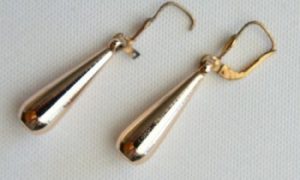 I never witnessed Dad buying Mum jewellery, or a gift really…….Mum would always buy her own, however I know that Dad gave these rose gold drop earrings to Mum for her 21st birthday, in 1959. I have worn them a few times, even with the broken part, still look great and always remind me of Mum.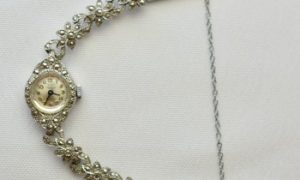 My other favourite piece of Mum's is her diamante watch. It is a wind up, which shows its age – nice and dainty and am sure Mum bought it for herself. Finishes off an after 5 glam style perfectly.
Sapphires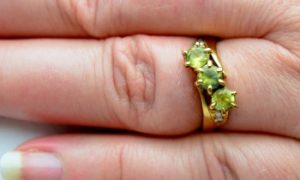 Sapphires are a common theme in my family on my Dad's side as my grandparents fossicked for them in their younger days and sent them to Germany for cutting and polishing. My cousin Pam and I are the oldest female grandchildren so we were given three sapphires in our early teens I think it was. We had a choice of blue or green – I can still remember my Mum saying to go with the green, as they are 'worth more' – I don't know if that is correct but you always go with your Mum's advice, hence I received three green sapphires. They stayed stored in cotton wool for the next 20 odd years until I had them made up into this dress ring.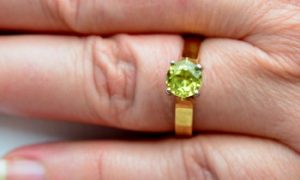 The other great sapphire story is about this solitaire sapphire ring. My Dad had this ring, don't recall how he ended up with it, but the sapphire was set deeply within a male ring, so you could hardly see the stone. My Dad was a mechanic so he never ever wore rings, no wedding ring, nothing, so this ring was never going to be worn, ever. So my Mum had a brainwave and had it redesigned into this stunner so that she could wear – you can see the size of the sapphire – looks so much better as a ladies ring. My Dad gifted this to me for my 30th birthday……so has sentimentality from both Mum and Dad.
Diamante jewellery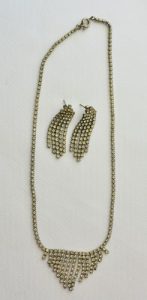 Back in the 80's diamanté jewellery was huge. Anthony bought me this necklace and earrings set while we were dating – worn it so much going to nightclubs or out to dinner – as you did in the 80's. So even though I haven't worn this set for almost 30 years, it has pride of place in my jewellery box.
Statement Ring
Last year we travelled to Greece and I always like to have a memento from our trips. Meandering around Athens I spotted two gorgeous multi-coloured rings in the middle of Athens. The first one I looked at was thousands of dollars, so finding this one, which looked similar but only in the hundreds was a winner. Is this a fabulous statement ring or what!!
What jewellery do you have that you just can't part with or that floods the memories?