We spent 7 nights over the Christmas period at The Moose Hotel and Suites, 345 Banff Ave, Banff, AB, Canada. See our Pictorial Review here.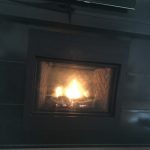 My travel agent had suggested it. The brief I gave was a fireplace, close to everything and a maximum of $500 per night. The budget came about as the first quote was for Chateau Lake Louise at $1000 per night……..so we halved the budget…..still a huge chunk of change.
The Moose Suites only opened mid 2016, so everything was nice and new. The timber construction suited the surrounds well, and we loved that you could walk from the Reception, outside along walkways to your apartment, and then straight from apartment to the street…..not back through Reception.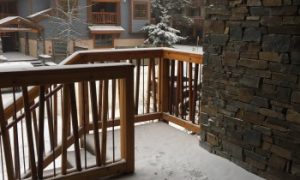 The only downside was that you did always have to get rugged up, even to slip out for some ice for drinks……..pick a Queenslander LOL.
As soon as you opened the front door, say for housekeeping, or room service, the cold air would flow through.
Positives about The Moose Suites –
Being able to access the street direct from the apartment rather than having to go back through Reception.
When first entering the apartment, there was an area to leave your boots, with air vents, so your boots dried quickly.
Large gas fireplace in separate living area which also had a dining table – good to have separate areas.
Nice sized separate bedroom which could be closed off and heated.
Plenty of drawers and three stools for luggage or sitting on for getting 'all rugged up'.
Large shower – dual shower heads.
Glass doors leading out to balcony with two chairs – not that we used the chairs, but it was nice being able to walk out onto balcony and experience the snow/cold without being fully rugged up.
Fabulous super king sized bed.
Soon after checking in Reception called to see if all okay – nice touch.
Room key shown to Roam Transit Service driver allows free use.
Plus there was a 'stop' right outside.
In house Restaurant 'Pacini' had a huge menu range. (Our Foods of North America video is here)
Only a minute walk into the main part of downtown Banff.
Negatives about The Moose Suites –
It took until day three for housekeeping to provide dish washing liquid and tea towel.
The rear of the complex is near a train line – so horn blowing at different times of day and night – so would have been nicer at front or side of complex.
No milk in the fridge for coffee/tea making facilities
Housekeeping seemed to occur too late in the day – we would have been out and about for hours, coming back around 3-4pm and then housekeeping would want to come in – we ended up just having towels replaced on two days – a better system is needed.
Suggestions –
Whilst we never felt unsafe, a secure gate at the complex entry from the street would have been beneficial.
A small stool in the entry area would have been good – trying to not drip snow everywhere and standing on one leg to remove big ski/snow boots was a challenge.
Coat rack at door would be useful too.
Robes and slippers would have been a lovely added extra.
We certainly would recommend The Moose Suites, however there is always room for improvement in any accommodation, but the location and positives make up for any negatives.
Do you have a favourite place to stay in Banff?