This turning 50 has been stressing me out a little. 50!!! Where on earth have the years gone. I remember my Mum at 50, I was 21 and my brother was 28……I could be a grandmother……OMG.
Even without having Mum and Dad with me anymore, and my brother being hours away, I still wanted to celebrate this milestone, so Anthony was happy to arrange (well with a lot of my input of course) a small dinner with friends who are as close as family to me.
So date check, venue check, invitees check, cake check…..then onto the very important decision of what to wear!
The Sacha Drake skirt was a 'no brainer' as it is stunning. I can still remember buying this. Early 2016 Sacha Drake held another of their hugely popular Warehouse Sales just down the road from me. 9am opening meant I arrived soon around 8am, and phew I was 4th in line. That line grew so long before the 9am opening that I was feeling pretty chuffed. Plus on checking out ladies 1, 2 and 3 in the line, I was going to be the first to the size 14 section – score. 9am and we were off………racks and racks of clothing, ranging from $20 to $60. You really just grab what you like the look of and then squeeze (and maybe a little pushing) your way into the change area……. a large open area with women everywhere in various stages of undress. This skirt was a must for me……it did not leave my hands. I even had ladies who were clearly size 8 or 10 saying that if I didn't want it they would take it…..ha……they weren't getting it. Even when paying the Sacha Drake staff said 'oooo you have the bargain of the sale'. Left feeling pretty pleased with myself.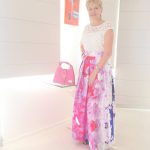 The first outing for the skirt was the Share the Dignitea High Tea last year, with a white spotted blouse, which was similar in style to what Sacha's model at Mercedes Benz Fashion Week 2015 had styled it with. See image from www.fashionweekly.com.au however for this outing I wanted a new top.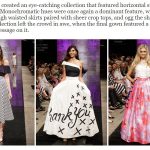 So I posted to https://www.facebook.com/groups/SYeverydaystyle/ asking the lovely ladies on there to give me their thoughts. There were heaps of fabulous suggestions, links, and even a wonderful lady snapped some photos for me when out shopping for herself . So armed with those suggestions I headed to Chermside for a day of it one Saturday.
I took the skirt with me and tried on a dozen plus different tops. Realised early on that lacy sleeves didn't work, nor anything too bulky – with so much fabric in the skirt I had to have a slimline top tucked in to give me shape. My first purchase was number 2….it was the perfect blue to match some of the pattern on the back of the skirt, a gorgeous quality by David Lawrence, so it came home with me.
Next purchase was the stunning red (number 3) from Veronika Maine. The staff member was so helpful, and I may have come home with an extra two tops, nothing to do with this outfit lol. I bought the medium initially as they had discount for that day only and ordered in a large – so two options down.
I then headed into the city to Queens Plaza to check out Alannah Hill as a style had been recommended to me. Again, great service and while I love the style of number 1, I don't think it was quite the right colour, but I brought it home too.
Number 4 was already in my wardrobe, another Sacha Drake classic, and a white shirt had been another suggestion from the lovely Facebook group.
Therefore, I had 4 options, which I popped on, took a selfie and then posted onto Facebook and Instagram for some voting. Interestingly 3 and 4 were the most popular and 95% of friends, who physically knew me, went with option 3…..so voila we had a winner.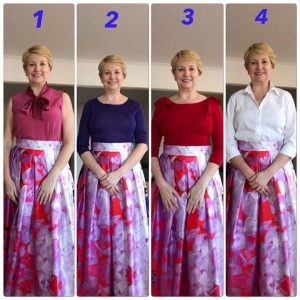 I wanted to also go neutral accessories this time. I checked out a few shoe options at Chermside without success. My plan was to worry about that through the week prior to my dinner, however, while in Queens Plaza found some stunners at Wittner. Then of course I needed a clutch, so off to Colette I headed, where I had a few options, but this pale mink, cream colour velour cutie won out. I did match to the shoes, even though they could have been slightly different, as really who was going to look at the shoes and clutch with that skirt around.
As the red top has the shoulder frills, I felt that a necklace was too much. I knew I had these stunning baroque freshwater pearls that I could craft into statement dangle earrings and bracelet which had to be almost like a cuff style, so made as a three strand……worked a treat.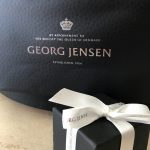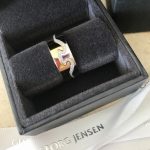 My final 'new' accessory was my 50th birthday gift from my darling husband – just a few days early but I had to wear to show it off.  I have always admired these Fusion rings by Georg Jensen in the Qantas magazines, so there was no other option for this milestone birthday.
I felt beautiful, was comfortable even in the new shoes, happy with my hair result, and then to be surrounded by so much love and warmth, my Celebration Dinner was 100% perfect.