I do love flowers and have been thinking about doing a workshop for some time now, so with Joanne's recent birthday it was a great reason to just do it.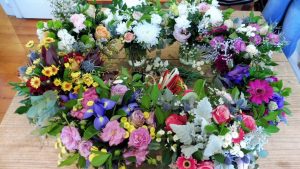 Francesca Flowers offers week nights and Saturday workshops, so off we went yesterday 5th of May – 10am kick off, for a three hour session. Nice and small group of eight ladies, three of whom including Joanne had received this workshop as a birthday gift. The workshop I booked in for close to Joanne's birthday was the 'Vintage Posies' option, for $98.00 each – all flowers, materials and cake included.
The workshops are in a private room, led by Francesca herself. Francesca Flowers is at 46 La Trobe Terrace, Paddington, and it is working florist, so always something happening, and people coming and going, but being out the back in a separate area, made it very enjoyable and relaxing.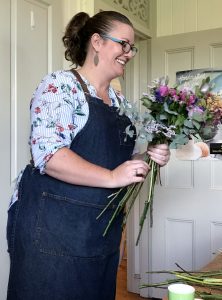 Francesca shared with us her love of flowers and floristry, with tips and tricks, such as the wire wrapping on roses, carnations and gerbera's. We were shown the basics for heights of flowers against vase sizes, stripping and cutting techniques for prepping the flowers, then onto the straussing technique to make the posie. Francesca made it look so easy…..we were all a little worried about our ability to do it.
 We then were given carte blanch to choose the flowers that we wanted to use – with Francesca giving advice and suggestions along the way. We all had different colour favs and tastes, so we pretty much used the majority of flowers available, along with fabulous greenery such as mock orange.
 My selection was of course purple toned, with purple roses, irises and veronicas, along with small yellow blooms to highlight the yellow part of the irises.
We all then spread out around the table, preparing our flowers, as Francesca had demonstrated. After a few false starts, with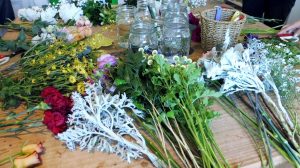 getting the straussing technique right, we all managed to create a beautiful, and interestingly, very much our own personality designs. Francesca tweaked our designs to highlight some of the flowers, or balance them out. They were then tied them together, stems cut and into the cute mason jar……then a final pretty ribbon tied onto the jar – and we were done – and feeling pretty pleased with ourselves.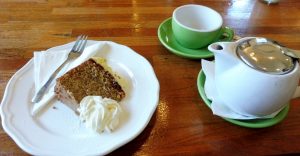 Of course we had been all holding out for 'cake', so then ventured into the 'tearoom' and chose from a fabulous selection of cakes, from salted caramel, orange and almond, brownies etc, and options of different teas – some just letting Francesca choose the best option.
We then learnt even more about buying flowers from wholesalers and the closed Facebook group – just for us Workshop attendees – so feeling very special.
Joanne and I thoroughly enjoyed our workshop – learnt great practical tips, played with pretty flowers, met lovely ladies, and the best part…….came home with a beautiful floral design – what more could you want from a day. A short video with some more pics can be seen here.
I would thoroughly recommend Francesca's Flowers for any flower needs and workshops, and I may have just booked in for a four week course before I left. More info here.