Do you enjoy Gold Class at the Cinema's, but astounded at the price? Me too……….
Friday just gone Anthony and I were in the city for a night away for his birthday and thought a movie sounded good. We checked the viewing times at both CBD cinemas being Event Cinemas Myer Centre and The Elizabeth Picture Theatres, which is one of The Five Star Cinema's. Both had suitable showing times for the Avengers Endgame.
Myers was closest to where we were, so off we toddled around 12.45pm for the 1.15pm showing. There were heaps of people in the foyer, and when finally make it to the front of the ticket queue were told that the only seats available were in the front row, which was never going to work. I'm normally a back row, or last few rows kind of girl – I like to try and see the whole screen, not feel like I'm watching a game of tennis. Even the next showing at 2.15pm was pretty much full – we thought….what the? as the school holidays were over and it was early afternoon. Tickets would have also been $23.00 each.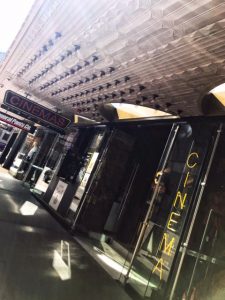 Anyway, we wanted to see the movie so walked down to Elizabeth Street Cinema and found a totally different scenario. There was no line up, the staff were lovely and there were plenty of seats available – she even moved a couple over so we could sit in the back row together.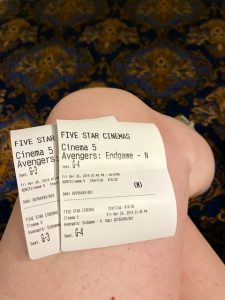 But the biggest plus was the staff member asked if we were members of The Star Club, signed us up there and then for $10.00, which reduced the tickets from $22.00 each to $18.00 each, plus we have a free ticket next visit.
The Elizabeth Cinema has all of the usual snacks, but also has a full bar and kitchen, and when we went into the cinema this movie was playing in (Cinema 5) we realised it was one of the 'Gold/Royal Rooms', with reclining seats and the full 'gold class' type service. The couple in front of us basically had a three-course meal during the three hour movie.
There was a down side though. I found that in the 'Gold/Royal' cinemas I could have sat closer to the screen, plus I didn't feel that it was the full surround sound experience. It was good, but I think its worth considering what movie you want to see, check that cinema options, as some movies may really need the surround sound to thoroughly enjoy. We do however look forward to trying out the regular cinemas at only $11.00 per person next time.
Even though I am lucky that I can park under my work building, it worth noting that they validate parking at the Wintergarden, so you can venture into the city without breaking the bank.
More info about the cinema, menu options etc can be checked out here – https://fivestarcinemas.com.au/the-elizabeth