Had an epiphany recently that patterned pants are the main theme running through my wardrobe……..and it made me wonder why I love them, and also how many other patterned pant lovers or haters are out there.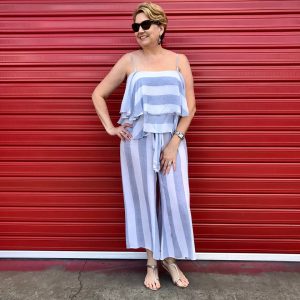 My why – 
It took a bit of thinking, but believe my love of pattern on my bottom half actually started out of necessity. Since the start of SuJo Designs and then into Beauje in 2004, I naturally wanted to wear jewellery that I made, so I needed to have plain tops (and the right neckline too) to showcase the pieces. Plus soon realised that if I had a colour or colours in the bottom half I could highlight that with the jewellery – I have always liked some matchy matchy style.
As I ventured deeper into the 'patterned pants' pool, I have discovered some brands that I love and fit me well. LisetteL is a Canadian brand, stocked in Australia, which I first discovered in Melbourne at Roxanne Fashions – they have a stretchiness in the fabric, but still a quality weight, they are a high waisted style, which is perfect for me, and very comfy. The style that I primarily buy are the ¾ length which I can dress up or down – I will wear these for work or casual. They aren't the cheapest brand, but well worth it for the quality. I even had to track down a stockist in Montreal when there in 2016 so I could actually buy a pair (or few) from the Brands home town.
The other Brand I find suits my pattern love is Motto, another Melbourne find, but this wonderful Brand is designed and made in Melbourne – what is not to love about that. The Motto brand is a perfect style for my shape and height – I'm a 12/14 size with them, and they are perfect for my height too.
Styling –
I will always, always style my trousers with a top covering my backside unless they are a looser style and heaver fabric. I just don't like to have my butt on display – not jiggling here thanks. Length is my number one priority but also if I can find an asymmetrical hemline it would be a winner too.
My height allows me to we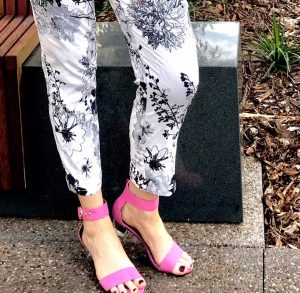 ar the longer top over the patterned pants without looking like I have no shape. If you were shorter then I would recommend a more fitted and shorter top to full tuck or half tuck.
Sometimes I will 'lash out' and go with colour on the tootsies too, but primarily I would go with neutral.
I don't buy tops nowadays for the jewellery angle, but my love for patterned pants has certainly not waned.
Are you a patterned pants lover, or just not on your radar?