Well I have to say I'm devastated. Have just found out that the Pont Des Arts Bridge in Paris has had the locks along the bridge removed.
I know Parisians may not have liked the look of all of these locks, with writing all of them, and true they had become a very touristy thing to do, but they are gone now and I'm very sad about that.
Wikipedia states that this 'tradition' only commenced in late 2008. The tradition being to attach padlocks to the bridge with first names written on them, then throwing the key into the Seine, as a romantic gesture; said to represent a couple's committed love.
Apparently from 1 June, the council started to cut down the locks and they have been replaced by supposedly 'romantic street art'.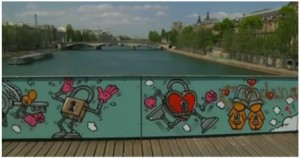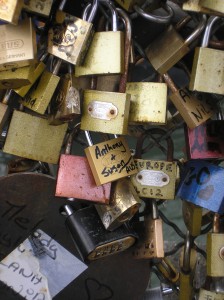 I am a sucker for anything romantic……so of course I had to do this 'tradition' with Anthony when there in 2013. Even though the hawkers were selling the locks and even the pens, I still couldn't resist. I enthusiastically wrote our names on the lock, took the token selfie, locked it on, then we both tossed the key into the Seine. I even became a little teary…….yes a big softy here. So now am saddened that our lock is no longer there and is no doubt just part of Paris' landfill somewhere.
We still have the photos though, and true it won't stop me loving Paris……..and we are still committed…..so I suppose I'll just have my whinge and then move on.
Anyone else lost their locks??